December 2012 - Trays
Trays look very nice with tile inlays. They are a result of a co-operation between Jean-Luc Caillat and us. All tiles are hand painted and
5/12   5 /12 inches in size. The whole tray is 1 13/16 x 1 11/32 inch.
November 2012 - The Vyne - Midieval Floor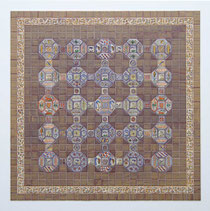 November 2012: We were fascinated by midieval tiles which were found in a chapel in England. The original tiles were made in Antwerp (Belgium) around 1520 by a man who learned his profession in Italy.
We took the designs of the basic tiles and made a new minitaure floor by keeping the medieval charakter.
Size: 13 7/8 x 13 7/8 inch
July 2012 - Vermeer room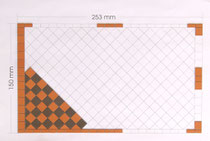 July 2012: the client has changed the measurements of the floor, this is the new layout with the tiles we made. We glued some tiles in place in order to show the client how to go on. The tiles are made of red and black clay, they are unglazed.Furtheron she gets Dutch tiles called "Children games" which we will present separately next month.
May 2012: A lady who is a client for years now is working on a roombox according to a painting of the dutch artist Vermeer van Delft.
The floor should consist of black and red terra-cotta (unglased) tiles in diamond setting. As baseboard tiles will have hand painted "Children games" on a shiny white glaze. (click to enlarge)
9 th May: the client gave the order to make this floor. She decided to make the total baseboard with "Children tiles" . She needs less than shown because there is a fireplace at the back wall.Thank you for ordering.
July 2012 - Report on Sabine Jones´ dollhouse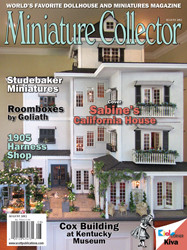 The magazin Miniature Collector features a report on Sabine Jones Dollhouse. Text and Fotos are made by Sophia Twaddell.
For this house Tiny Ceramics made
- the floors for a very large kitchen,
- a medium size bathroom and a large bathroom with a hand painted wallmural "Olympic Gods"
- entrance and laundry with handpainted italian inspired central design
- floral wall tile murals in the kitchen and outside
- table top of tiles incorporated in real wicker work.
Have a look at the magazin. You will see a huge personal collection of quality pieces. It is said that Sabine Jones is able to compose something new and outstanding out of her German roots and American livestyl.
.
June 2012 - New floors under "Tile Projects"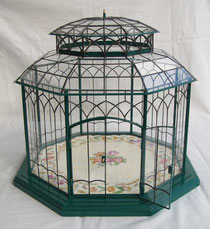 Conservatories are often based on an octagonal (8-sided) base. We made floors in Art Nouveau styl as well as with opulent flower arrangents. A selection can now be seen under the heading  " Tile Project" .
May 2012 - Porch made of unglazed tiles
The lady liked to get floor for a porch. A rustique look was desired. She decided to take larger unglazed tiles, staight setting framed with a border of triangles.            Size: 22 1/16 inch x 9 3/8 inch
This is the floor after the installation and after having grout it. We have heard that a railing at the front will follow.
Many thank´s for supplying the pictures!
May 2012 Influence of colour distribution
The colour distribution influences the look of  floor. This is a variation of the below mentioned floor. Size:11´x 8 3/8´.
The lady asks for a suggestion in black and white. As you can see the left version looks lighter and the right version rather bold. Compare the look on the floor at the third picture.
May 2012 - Conservatory floor
We have been contacted to make a suggestion for a conservatory floor, measuring 12´x12´. The middle part should be design "Castle". A border made of tiles in diamond setting with trangles is desired.
This is the layout for the miniature floor we passed on to the client.
The white tiles will be silk mat, the green ones shiny.
We hope having matched the customers ideas and to get the order to make all the real miniature tiles for the conservatory. (please click to enlarge)
5 th May 2012: We got the order to make this floor. Thank you!