December: flower pots for large Flowers
End of this year we are extending our product range. These are the first flower pots we made for hibiscus and marguerite trees.  On the top row there are the pots after having been thrown on the potters wheel.  The bottom row show the glazed and hand painted items. As you can see the final look depends very much on the glaze and design.

November: more modern floors: special shape
We made this floor for Francoise in France. She fell in love with the modern Design "Chicago" consisting of large, long and quarter tiles in different colors. 
This floor was a real challenge! Please look at the shape, only one wall is straight with no cut-outs or curves. And a lot of tiles with different tiles shapes.

Thank you Francoise for the good co-operation, for your open mind and limitless patience!

October:  modern bathroom floor
In October we stay with the modern design dominated by the colors white and grey. The bathroom floor above is based on the traditional octagonal pattern 'Castle'.  By chosing white and grey as colors it gets a modern touch. To the right you see what will be delivered after having finished the project in our workshop.

A step further went this house owner. She selected modern straigth tiles for the floor and the walls of her bathroom with a few accent tiles in grey to achieve a crisp strictly modern look.

September:  Modern design in a traditonal house
A lot of miniature enthusiasts are working on old house which they decorate in the traditional styl of the period. Some others redecorate traditional houses in a modern styl. For your inspiration today we present a kitchen backsplash with a modern design which we made according to the wishes of a lady in mainly painted in ther favored coulors blue and green, purple and yellow. Looks really very modern!
August: Sunny days at the pond
Fitting to the summer season we made ponds surrounded by stones. They are made in one piece and have size of  3.5 and 4 inches by 3 inches. The centre is covered with a sea blue glaze. Now they are waiting to be arranged in an garden. Maybe some waterlilies would look great in them. Take the chance to be creative!

Juli: Stove with flowers, butterflies in golden border
Though it is summer and quiete warm  it is a good idea to prepare for cold winter days. Therfore we produced these miniature tiles in time!
European Stoves like this one could be found in Castles and elegant living rooms to keep the rooms warm.  The miniature stove is made of real ceramic tiles which are hand painted. The door section is made of brass and the doors can be opend. Last month this stove found a home in an elegant eupean style dollhouse in the US

June: Kitchen - black and white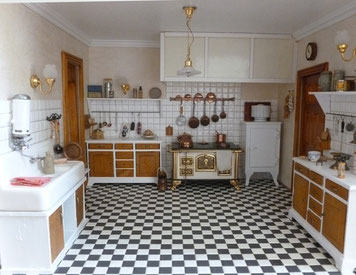 The french minaturist Evelyn Fruhinsholz likes the black and white Art Deco style very much. As experienced miniaturist she made the layout for her kitchen floor and the walls by herself. Based on the layout she calculated the amount of tiles she needed and ordered the corresponding amount. By applying her own mounting technique and the layout sheet she found it easy to lay the tiles.
We thank you Evelyn very much for sharing your experience with all of us!
May: Chicken and Rooster
Miniature tiles murals for behind the stove are always wanted very much. Here are 3 different versions and sizes. And they sold immediately at the Miniature Show in Chicago.
We are making new ones at the moment. We try to get them ready for the show in Rheda (Germany) and Paris (France). Come and meet us!

April: Water basins and tile wall murals
Some of our clients like us to make water basins or fountains. We picked this idea up and combined the basins with tile wall murals. They will be an eyecatcher in  conservatories and as architectural elements in garden scenes.

The basins are hand made of real ceramic and covered with a high gloss glaze. The left basin is embroidered with hand painted tiles.
Come and see us and our miniature tiles works in Chicago at the Chicago International Miniature show!  We will be happy to welcome you!
March: opulent bathroom
Cordula and Peter Sonn designed this opulent, feminine bathroom.

Silkmatt and glossy rose tiles are applied on the floor in a diamond setting. Glossy tiles at the walls arranged in a straight pattern emphasize the wall decoration as well as the golden fittings and bath furniture.

Cordula and Peter did all the layout and the tiling. After having glued the tiles with wood glue accuratly tile by tile and row by row they put together the walls and finished the setting by applying white grout.This gives the room a real look!  And look at the ceiling! Isn´t it impressive?

We thank you both very much for sharing the photos of your bathroom project!
February: Benches and Flower-Container
In a lot of gardens there are benches to sit on and enjoy the flowers around. Very often the arrangements are tiled as the furmiture resitst all whether conditions and  look always inviting. This miniature arrangement consist of 2 benches and 4 planter (4th one ist not shown).

Handpainted tiles with typical Dutch designs are incorporated. As the backsides are embroidered as well the arrangement is an eyecatcher from all sides.
January 2015: San Francesco, Italien Floor
The original floor can be seen in the church of San Franceso, located in the italian city of Forli. This opulent and very detailed floor was made in the early 16th century by applying the majolica technique. It shows tiles sizes and colors inspired by the moorish culture which influenced Spain as well as some productions in Italy.

We can imagine this floor in a miniatures house entrance hall or on a terrace.